Bogliasco Foundation Fellowships/Residencies
Application Fee: $30 | No residency fees
Travel / personal expenses responsibility of artist
Duration: 30 to 34 days in fall or spring
Disciplines: Archaeology, Architecture, Classics, Dance, Film/Video, History, Landscape Architecture, Literature, Music, Philosophy, Theater, and Visual Arts
Open to artists of all ages, worldwide
Collaborative projects (no more than 2) are acceptable
Spouses/partners can accompany artists ($25 a day surcharge)
DEADLINES: January 15 for fall semester; April 15 for Spring semester
The Bogliasco Foundation supports the Arts and Humanities by providing residential Fellowships at its study center in Italy's most vibrant, historic crossroads, where gifted artists and scholars of all cultures come together to connect, create and disseminate significant new work.
Located in the fishing village of Bogliasco near Genoa, in a region of extraordinary beauty whose landscape has stimulated creative expression for centuries, the Bogliasco Foundation offers one-month residencies to individuals who can demonstrate notable achievement in the Arts and Humanities: those disciplines that seek to understand our place in the world, shaping and defining what it means to be human.
Taking inspiration from the ancient port of Genoa, which has brought global travelers together throughout the ages, the Foundation strives to foster productive exchange by composing intimate groups of 8-10 residents who represent a diversity of discipline, age, and nationality. In conversing over shared daily meals, artists and scholars learn to communicate with each other in new ways, challenging one another to think beyond the usual boundaries of culture and perspective.
For Bogliasco Fellows, the time and space to create in complete freedom, combined with the thought-provoking company of varied colleagues in an unforgettable setting, results in astounding productivity, novel approaches and often-unexpected collaborations.
Like the seafarers who left Genoa to share merchandise, ideas and dreams with the rest of the world, Fellows and the projects they develop in Bogliasco continue to enrich the global cultural landscape: stimulating exchange, exploring aesthetic experience, seeking knowledge, breaking down barriers, urging us to understand ourselves and each other better.
Twice per year, the Foundation accepts online applications in English, Italian, French, German and Spanish. Approximately 50 Fellowships are awarded per year, and since 1996, the Foundation has welcomed more than 700 Fellows who have traveled from 40 countries to work at the Liguria Study Center in Bogliasco, Italy.
On average, there are 14-16 Fellows and spouse/partners in residence together, and a formal, communal dinner is served every evening.
Bogliasco Fellowships are awarded to gifted individuals working in all the disciplines of the Arts and Humanities without regard to nationality, age, race, religion or gender.
To be eligible for the award of a Fellowship, applicants should demonstrate significant achievement in their disciplines, commensurate with their age and experience. Please note that Bogliasco Fellowships are not awarded to students currently in a degree-granting program. The Foundation gives preference to those whose applications suggest that they would be comfortable working in an intimate, international, multilingual community of scholars and artists.
The Foundation only accepts applications submitted through the online application system. To access the system, you must first register for an account here, where you will also find a list of requirements that we strongly encourage you to read before beginning your application. Once registered, you may login as needed to work on your application.
Requirements
The following documents, which may be submitted in English, Italian, French or Spanish, will be required. Please note that the Foundation cannot process application materials submitted in any other language.
(1) The completed application form.
(2) Three letters of reference, which must be uploaded directly by the referees and received by the application deadline.
(3) A short-form curriculum vitae, three pages in length.
(4) A one-page description of the project that the applicant would pursue during her/his stay at the Bogliasco Study Center.
(5) A sample of the applicant's work that has been published, performed, exhibited, or otherwise publicly presented during the last five years.
6: A $30 application fee, payable by credit card at the end of the application process.
PARTNERS/COLLABORATORS:
Bogliasco Fellows may be accompanied by their spouses/partners during their stay at the Bogliasco Study Center. Spouses/partners who intend to pursue a project in one of the disciplines, and who wish to be designated as Bogliasco Fellows, must submit separate and complete applications. Although the Foundation accepts collaborative Fellowships, applicants must submit separate applications and be prepared to share living quarters and/or studio space at the study center.
RESTRICTIONS:
Children cannot be accommodated at the Study Center.
Overnight visits by friends, colleagues or family members are not possible.
Pets are not allowed.
Reapplications: There is no limit to the number of times a candidate can apply for a Bogliasco Fellowship. However, previous recipients of a Bogliasco Fellowship must wait five years before reapplying. For example, Bogliasco Fellows who were in residence during the spring 2012 semester are eligible to reapply for spring 2017.
The Foundation does not allow Fellows to defer their residencies. A Fellow who turns down a Bogliasco Fellowship must reapply to be considered for another semester.
Those with food allergies or other dietary restrictions should contact the Foundation at info@bfny.org before submitting an application.
Those who have problems walking up and down stairs or steep inclines should contact the Foundation at info@bfny.org before submitting an application.
FINANCIAL RESPONSIBILITIES:
Bogliasco Fellowships include full room and board, plus the use of a private studio. The cost of transportation to and from the Bogliasco Study Center is the responsibility of Fellows and their accompanying spouses/partners. So also are all project materials and equipment, and any personal expenses incurred during the fellowship period, including medical expenses. Spouses/partners will be charged a daily fee of $25 to help defray the cost of meals and housing.
DEADLINES:
Deadlines for the submission of applications are as follows:
January 15th for residencies during the subsequent fall semester, and April 15th for residences during the subsequent spring semester.
Notification dates for the award of Fellowships are as follows:
April 1st for Fall Fellowships; July 1st for Spring Fellowships.
If you decide to submit an application for a Bogliasco Fellowship and have questions, please feel free to contact the Foundation office:
The Bogliasco Foundation
1 East 53rd Street (10th Floor)
New York, NY 10022
USA
Tel +1 212 486-0874
Fax +1 212 308-7402
info@bfny.org
www.bfny.org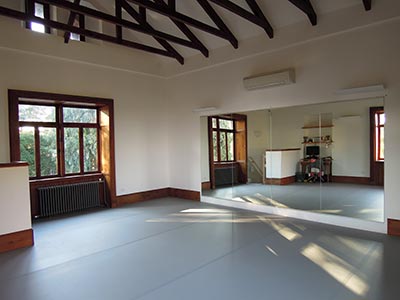 During their stay at the Center, Bogliasco Fellows are assigned separate private studios. Each private studio space is equipped with ample work surfaces, a desktop computer, a printer, cabled and wireless internet service, which is also accessible throughout the Study Center. Some of the studios include special amenities:
the two Visual Arts studios have basic equipment for painting, sculpture, and graphics. One of the studios includes a printing press and a marble workspace with sink.
the music studio is equipped with an upright piano, keyboard, and a recording/playback system.
the 400 square foot dance studio features a sprung floor with Marley, a sound system, a small work station and optional 10 x 7 foot high mirrors.
Once awarded a Fellowship, each Fellow will receive a detailed description of his or her assigned studio. If you require additional information about the studios before submitting an application, please contact us at info@bfny.org.
Related Posts
« Adolph & Esther Gottlieb Emergency Grant for Artists, no deadlines KRISTINESTAD Artists' Residency, Finland, apply by Sep to Nov 2018 »